June 14, 2013 2:22 PM
Technology in Schools: Still Pretty Haphazard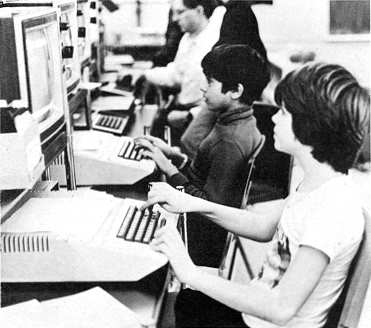 How's technology being implemented in schools? Is it working?
Despite some 25 years worth of technology-in-schools enthusiasm, we really have no idea if it's working. That's one of the takeaways from a new study about technology in elementary and secondary schools recently conducted by Center for American Progress.
According to a piece by Motoko Rich in the New York Times:
With school districts rushing to buy computers, tablets, digital white boards and other technology, a new report questions whether the investment is worth it.
In a review of student survey data conducted in conjunction with the federal exams known as the National Assessment of Educational Progress, [CAP] found that middle school math students more commonly used computers for basic drills and practice than to develop sophisticated skills. The report also found that no state was collecting data to evaluate whether technology investments were actually improving student achievement.
Students are using technology, for sure, but maybe not all that effectively. Apparently 34 percent of eighth graders used computers to "drill on math facts," but only 17 percent used computers to run statistical programs, one area of math skills where computers might be most beneficial.
The report interesting revealed different uses of technology by subgroup. Half of black students used computers for math drills in school, but less than a third of white students did so. Some 41 percent of poor students (those eligible for free and reduced-price lunches) used computers for math drills. Only 29 percent of non-poor students used computes for math drills. [Image via]
Feed the Political Animal
Donate
Washington Monthly depends on donations from readers like you.