Blog
December 14, 2012 12:27 PM
Political Football
The college football bowl season gets underway this weekend with an exciting doubleheader. First up is the Gildan New Mexico Bowl (featuring two five loss teams hoping to avoid becoming a six loss team—though apparently being a six loss team is enough to make it into the Little Caesars Bowl on December 26).  This is followed by the famous Famous Idaho Potato Bowl, held in the Big East's new capital city: Boise.
President Obama has of course been a proponent of a college football playoff system and in fact PolitiFact checked off a "promise kept" in July when the NCAA adopted a version of this plan, effective after the 2014 season. To my knowledge, though, Obama has never sought to declare his own national champion, no matter how bizarre or biased the BCS system's calculations.
Let us hearken back, then, to when President Richard Nixon did just that. It was the culmination of the 1969 season, and the NCAA had decided it was the 100th anniversary of college football. (Which is to say, it was the 100th anniversary of the Princeton-Rutgers game in November 1869 (Rutgers 6, Princeton 4). However, Harvard graduates know that the first real game – played with an actual football, as opposed to a round soccer-style ball – was actually in 1874, and thus Harvard refused to place the NCAA's 100th anniversary logo on its uniform.)
On December 6, Nixon showed up at Razorback Stadium with a "national champions" plaque as the University of Texas took on Arkansas, both teams 9-0 and aiming for the Cotton Bowl. Penn State was 10-0, but apparently Nixon's "Southern Strategy" took precedence. Texas won, 15-14, after trailing 14-0 after three quarters. Nixon presented his plaque to UT coach Darrell Royal in the Texas locker room, with ABC broadcasting it all to an estimated 50 million viewers.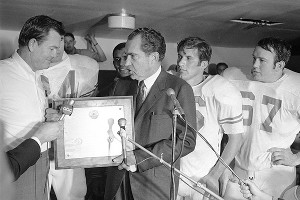 Texas went on to the 1970 Cotton Bowl, but not against the #2 team—instead they played #9 Notre Dame. Saving Nixon's blushes, Texas made a last-minute comeback (aided by a generous officiating decision) to win 21-17 and finish undefeated. (Penn State also won, in the Orange Bowl, thus finishing 11-0 but plaque-less.)
Nixon apparently thought the presidential declaration of a "national champion" might become an annual event – but in the wonderful memo below, rescued from the National Archives by the University of Houston's Brandon Rottinghaus, Pat Buchanan urged the president desist. "I strongly recommend the President not get involved at all…" Buchanan wrote. Picking a winner could only alienate other teams' fans—the 1970 season actually saw three different authorities picking three different national champions: Texas, Nebraska, and Ohio State. This was despite the fact that Texas, again the coaches' poll champion, lost to Notre Dame in the Cotton Bowl this time around. So embracing Texas would anger "not a few Catholics," Buchanan warned. And embracing Nebraska (which did at least win its bowl game) would anger Ohio State—and famous coach Woody Hayes, Buchanan reminded the White House staff, was "an RN man."
For the record, this year Ohio State is undefeated but ineligible for bowl participation. Might Obama's love for all things Ohio (up through November 6 at least) tempt him to step into the fray? Still, while I don't know if OSU coach Urban Meyer is a "BO man," Meyer's $4 million annual salary plus incentives does take him safely out of the 99%…
[Cross-posted at The Monkey Cage]
Feed the Political Animal
Donate
Washington Monthly depends on donations from readers like you.